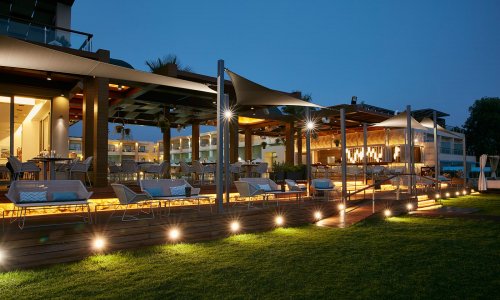 HOTEL POLICIES
Click the link to see our Policies in detail:
PAYMENT POLICY
Payment options:
We accept Visa, Mastercard, Maestro, American Express, Diners

Payments Security:
All payments made using the card are processed through the electronic payment platform of "Alpha e-Commerce" of Alpha Bank and uses TLS 1.2 encryption protocol encryption with 128-bit (Secure Sockets Layer – SSL).
Encryption is a way of coding the information until it reaches its recipient, who will be able to decode it using the appropriate key.
Pricelist STANDARD RATE:
1-night deposit is required to confirm your reservation
The confirmed reservations can be canceled free of charge up to 8 days before the date of arrival. If canceled 7 days to 1 day before the date of arrival, the deposit will be charged. If canceled on the day of arrival or in case of no-show, 50% of the total amount of the reservation will be charged.
Pricelist BEST AVAILABLE RATE:
2-night deposit is required to confirm your reservation
If canceled at any time, the amount of the deposit is charged. If canceled on the day of arrival or in case of no-show, 50% of the total amount of the reservation will be charged.
Limitation of Liability
In no event will Minoa Palace Resort or its representatives be liable for any loss of revenue or damages, direct and / or indirect, positive and / or negative, in any way connected with the use of the Site or the Online Store.
Applicable Law-Competence
Any dispute or dispute that may arise between the Minoa Palace Resort Hotel and the visitor / user in the context of the use of the Site and / or transaction by the Online Store, the applicable law is the Greek Law and the Chania Courts.
Protection of Personal Data (N. 2472/1997)
Minoa Palace Resort informs you that for your best and most complete service through the Website and the E-Shop, it processes your personal data under Law 2472/1997 and its related amendments and in accordance with the following guidelines:
You give us only your typical details regarding the smooth completion of your purchase.
For this reason, in transactions made through the Online Store, we only request data that is necessary for making your reservation, as well as to personalize and improve your service.
Minoa Palace Resort in no way will disclose or publicize your personal information and the information you trust tous. The personal data that you make available to us through the use of the Website and the Online Store are used exclusively for the execution of your transactions.
Visitors / users when providing their personal data in the course of their transactions are currently being informed by the Minoa Palace Resort Hotel and agree and accept the forthcoming processing of these data for the purposes of smooth and easy exchange between the parties, as well as the transmission of such data to recipients, who will be specifically identified and these are the employees and cooperating parties in the course of the execution of the contract being drawn up.
It is ensured that only authorized employees have access to transaction information and only when necessary, e.g. for booking reservations.
Minoa Palace Resort undertakes not to disclose the details of its clients and their transactions, unless it has a written authorization from them or it is imposed by a court decision or a decision of another public authority.
PRIVACY POLICY
Scope of This Privacy Policy
At MINOA PALACE RESORT – TOMES AKINITA SA   we guarantee our commitment to respecting and protecting your privacy, as well as safeguarding your personal data, both online as well as in our premises. Our vision and goal is to provide you products and services that exceed your best expectations. Therefore, MINOA PALACE RESORT – TOMES AKINITA SA   with respect to the applicable national and European legal framework about data protection, especially the new European General Data Protection Regulation 2016/679 (GDPR) provides you hereby a lawful, fair and transparent policy in order to inform you about the personal data we collect, how we use it, and how the use of this information can benefit your experience while visiting our premises and/or our online platforms (websites and mobile application).
This privacy policy applies to all premises and/or digital environments owned by MINOA PALACE RESORT – TOMES AKINITA SA and related to our activities. Please note that at the moment, we are following all necessary procedures in order to be compliant with GDPR.
What Information We Collect
The information we collect about you directly or not, may include your full name, postal address, e-mail addresses, telephone numbers, ID/Passport information, car plate information, credit card information, date of birth, nationality, gender, as well as consumption data, personal preferences, names and ages of children and any other necessary information to stand up to your personalized requests or about health condition and/or allergies. We may also collect information on the frequency of your web or actual visits to our hotels, your travel habits and preferences, and any other important information to make your visits memorable.
How we collect your Personal Data
MINOA PALACE RESORT TOMES AKINITA SA uses multiple physical and/or digital communication channels in order to collect your personal data. Such communication channels may be hardcopy documents used in our premises and/or via digital forms available online, or documents completed before third parties interrelating with us in order to serve you. Those documents may contain information in relation to your check-in, concierge services, spa treatments and/or fitness activities, child care services and boat/car rental and marina services. We may also use surveys and questionnaires in order to collect further demographic data or other dedicated information about you. Another, source of collection is our Mobile Application, through which you provide us personal information in order to offer you services such us, restaurant booking, spa & fitness, child care, etc.  However, registration to the Mobile Application is optional, but when you register and use the Application, you generally provide first name, last name, email address, age, password and other registration information, transaction-related information and information you provide us when you contact us for help, as well as credit card information for reservations and use of the Application.
In addition, the Application may collect certain information automatically, including, but not limited to, the type of mobile device you use, your mobile devices unique device ID, the IP address of your mobile device, your mobile operating system, the type of mobile Internet browsers you use, and information about the way you use the Application.
In addition, when planning an event with us or when you just attend one as a guest, we may collect personal information about you, which may be shared with event planners or third-party service providers. In any case, however, you will always be provided with an option to deny any further process of your personal information. In case you choose to apply online for a job position, MINOA PALACE RESORT TOMES AKINITA SA   shall collect only the adequate information which allows us to appreciate your talents and the suitability to our requirements. Due to our business context, MINOA PALACE RESORT TOMES AKINITA SA   may also collect information about you from multiple third parties, such as airline companies, travel agents and operators, and other partners involved in activities concerning tourism in general.
Special Categories of Personal Data – Sensitive Personal Data
When referring to the notions of "special categories of personal data" or "sensitive personal data", it means that this kind of personal information reveals racial or ethnic origin, political opinions, religious or philosophical beliefs, trade union membership and genetic data, biometric data which allows to uniquely identify a natural person, health data and/or data regarding sexual orientation. At MINOA PALACE RESORT TOMES AKINITA SA   ., we do not collect sensitive personal data, unless you provide us them along with an explicit consent for every related purpose of processing. Such a case is when we ask you to provide us information about your health (i.e. allergies), in order to be able to offer you the best gastronomic services in relation with your health status.
Minors Data
At MINOA PALACE RESORT TOMES AKINITA SA   , it is not part of our policy to seek or obtain personal data directly from minors (i.e. under the age of 18) without their parental or legal guardian's consent. However, as it is impossible to always determine the age of persons who access and use our websites, we encourage parents or guardians to contact us if they notice any case of unauthorized data provision by minors in order to exercise accordingly their rights such as deletion of their data.
Purposes of Processing
MINOA PALACE RESORT TOMES AKINITA SA   collects your personal data in accordance to the provisions of the General Data Protection Regulation, the ePrivacy Directive, and the respective national legislation on data protection, in order to provide you with a high-level hosting experience. We need your personal data for different purposes such as:
Process a transaction (i.e. completing a reservation, responding to a request for information etc);
Comply with legal obligations;
Improve our services as well as perform researches via surveys and questionnaires in order to provide you personalized offers about our products and services;
Improve the efficiency of our websites and our various means of communications, facilitate our advertising campaigns, and/or promotional activities
Offer you personalized information and offers;
Facilitate administration and marketing purposes including analyzing your travel and accommodation preferences, as well as communication purposes in relation to our products and services our strategic marketing partners, and other trusted third parties;
Promote our special offers and goods, services, forthcoming events or promotions which may interest you;
We take all the necessary precautions, security measures as well as the relevant technical and organizational measures to ensure the confidentiality of the provided personal data. We always base the processing of your personal data to a valid legal basis such as law, contact your explicit consent etc.
Data Sharing (transfer or access)
The personal information you provide us is being kept secured and safeguarded in our database. We may share your information within our group – companies and public services for the above described purposes. Furthermore, we may disclose your personal data to third parties in Greece and throughout the world which process your personal data under our written order and clarifications (Data Processors). We always guarantee that these third parties imply the same measures for the protection of your personal data and act only under our written orders with respect to your personal data.
In general, MINOA PALACE RESORT TOMES AKINITA SA does not sell, rent, or give physical possession of your personal data to unaffiliated or unknown to us third parties.
More specifically, we may disclose or allow access to your information to others as following:
when we have received your consent to do so;
when sharing or disclosing your personal information is necessary;
when third-parties or service providers acting on behalf of MINOA PALACE RESORT TOMES AKINITA SA   need access to your information, including any interaction by your side with social media channels;
when compliance with contractual obligations is necessary; when we must comply with legal or regulatory requirements or obligations, in accordance with applicable law or court order;
When individuals' life, health and/or property is in peril.
If information is shared as afore-mentioned, MINOA PALACE RESORT TOMES AKINITA SA    limits the scope of information that is being disclosed, to the amount strictly necessary for the performance of the specific purpose. In addition, given that some of our activities are processed by third-parties (i.e. IT administration), MINOA PALACE RESORT TOMES AKINITA SA   endeavors to ensure by contractual assurances that personal data processing is secure and fully compatible with this privacy policy.
Online Technologies
At MINOA PALACE RESORT TOMES AKINITA SA   website and Mobile Application, we may use cookies, invisible pixels, and web beacons to obtain information about you while visiting our websites. For further information about cookies, please read our Cookies Policy.
Third-Party Websites' Disclaimer
We may provide hyperlinks to third-party websites as a convenience to our users; MINOA PALACE RESORT TOMES AKINITA SA   does not control third-party websites and is not responsible for the content of any linked-to third-party websites or any hyperlink in a linked-to website. We are not responsible for the privacy practices or the content of third-party websites.
Your Rights
At MINOA PALACE RESORT TOMES AKINITA SA   we endeavor to protect and respect your rights, as set forth by General Data Protection Regulation, including more specifically:
Furthermore, you are entitled to request:
(i) your right to be informed on the processing of your personal information (i.e. right of access) and to request and obtain further information on the processing applied
(ii) request for correction of their inaccurate personal data;
(iii) request for deletion of personal information provided, unless prohibited by legitimate reasons;
(iv) request for limitation of processing;
(v) request for portability of your personal information; and
(vi) objection/opposition to further processing thereof.
In these cases, MINOA PALACE RESORT TOMES AKINITA SA   . will respond in writing within 30 days of receipt and identification of the request.
In addition, in the event of exercising one or more of the above-mentioned rights of correction, deletion and restriction of your data, these requests shall also be forwarded to any third-party recipient to whom the personal information may have been disclosed in the scope of pursuance of the aforementioned processing purposes.
Data Protection Contact Person
In order to ensure that your personal information is being efficiently protected,. has appointed a Data Protection Contact Person to whom data subjects may address their requests and questions in relation to this privacy policy, as follows:
Konstantinos Liodakis , liodakis@minoapalace.gr , Tel : +302821036500 , MINOA PALACE RESORT , 73014 Platanias , Crete , Greece
In case you consider your personal data are affected in any way, you may contact the  Greek national Data Protection Authority as follows: www.dpa.gr, address: 1-3 Kifissias Avenue,
Information Security
Although, no method of transmission over the Internet or method of electronic storage is 100 percent secure, at MINOA PALACE RESORT TOMES AKINITA SA   ., we have taken all commercially reasonable measures and precautions in order to maintain your data accuracy and to ensure the appropriate use of information we collect about you, as well as to secure and protect your personal information from unauthorized access, while you enjoy products and services we provide you during your physical presence in our premises or your digital visits in our online environment, respectively.
Retention Period of Personal Data
Your personal data is retained for a predetermined and limited period depending on the purpose of processing, after the end of which, these personal data is being deleted from our files unless another retention period is required or permitted by applicable law.
Updates to the Privacy Policy
MINOA PALACE RESORT TOMES AKINITA SA    may amend this Privacy Policy from time to time in order to meet changes in the regulatory environment, business needs, or to satisfy the needs of our guests, properties, strategic marketing partners, and service providers. Updated versions will be uploaded to our website and date stamped so that you are always aware of when our Privacy Policy was last updated.
May 2018
TERMS OF WEBSITE USAGE
The visitor / user of the pages and services of the Minoa Palace Resort website (hereafter referred to as the "Site") must carefully read the present and in case of disagreement with the terms stated he/she must not use it. Otherwise, it is presumed that he/she accepts the terms of this Agreement and grants its unconditional consent in their entirety.
Legal information and terms herein govern all the websites of the Site unless explicitly stated otherwise on a particular page.
Visitors to the Site agree that:
(a)they use their actual details (surname, name, address, e-mail, company details, addresses) in the contact forms and
(b) they use the site in accordance to the law,with morality and will not take any action or omission that may cause damage to it, but also to any other user or networks connected to the site.
Minoa Palace Resort has the right to add and modify the content or services of the Website, as well as the terms of use, whenever it deems necessary and without prior notice, by notifying them through the Website.
USING IDENTIFICATION TECHNOLOGY
The Site uses "cookies" and other technologies to identify each visitor / user. Cookies are small text files stored on the hard disk of each visitor / user, giving a unique identity to their computer to be recognized each time they return to that website or similar websites.
If you do not wish to use cookies, you can set up your internet browser to notify you of their use.
COPYRIGHT
The copyright of the content (including texts, graphics, images, photographs and software) and the services of the Website that have been or will be uploaded on the Internet are protected by Greek, Community and international copyright laws and belong exclusively to the Minoa Palace Resort.
The names, images, logos, distinctive features and general signals appearing on the site are property labels of the Minoa Palace Resort or trademarks whose use has been legally assigned to it. Their appearance on the website should, in no way be construed as a transfer or assignment of a license or right to use them.
The Site or any part thereof may not be reproduced, copied, sold or exploited commercially for any purpose and in any way without the express permission of Minoa Palace Resort.
DECLARATION OF INCIDENCE
Questions, applications filled in and emails in general are treated as confidential.
The information provided by the visitor / user is only used to send an electronic response and for future update of the offered products and services offered by the hotel Minoa Palace Resort.
If requested by the Authorities or if the content of visitors '/ users' messages damages the site, the above will also be transferred to the competent Authorities in order to:
(a) protect against unauthorized use, inconsistent with law and generally misuse of the site, as well as our legal rights and property and (b) protect the security, property and legal rights of the other visitors / users and consumers.
LINKS TO THIS WEBSITE
Any reference or link to another website is provided to facilitate our users and we are not responsible for the contents, materials, products and services provided on these websites or any link contained on a related website, or any changes or updates to such websites.
MARKET CONDITIONS
The Site aims to provide goods and services to Minoa Palace Resort's guests.
The use of our website and our e-shop (hereinafter referred to as the "Online Store") requires the unconditional acceptance of the following terms without exception. If a user does not agree with these terms, then he / she must abstain from using the Online Store and from each transaction with it, otherwise it may be inferred that it has accepted all its operating conditions.
Minoa Palace Resort reserves the right to modify or revise freely the terms and conditions of transactions from its Online Store whenever it deems it necessary, and undertakes to inform consumers about any change, through the pages of this Web site.